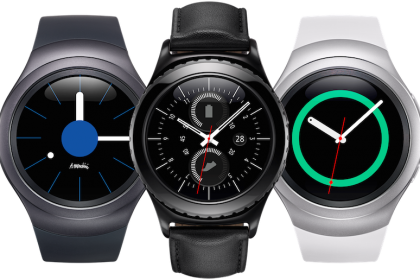 The Samsung Gear S2 comes in two editions, the standard Gear S2, and one for those of us that love the classic wrist watch look, the Gear S2 Classic. Samsung says the smartwatch is designed for those who prefer a more timeless design, and we think they've hit the mark. We got our hands on the standard Gear S2, which comes in both silver and a slightly darker grey.
 On the wrist, the Gear S2 feels pretty lightweight and comfortable to wear. Though it measures in at 42.3×49.8×11.4mm compared to the 11.5mm width of the first generation Moto 360 which people say is quite bulky, the Gear S2 doesn't feel like a bulky watch. In fact, its weight and general build make it feel solid and premium, an issue that (in our opinion) Samsung has had with its past smartwatches.
The real beauty of the design of the Gear S2 comes not with the circular display itself, but with the bezel of the watch. Instead of directly interacting with the screen of the Gear S2, users have the option of using the rotating watch bezel to scroll through the various menus and apps of the smartwatch.
When you turn the bezel, you'll feel a gentle click which Samsung says will allow for muscle memory to eventually kick in and enable you to select apps without needing to look at the screen, although after using the watch for two weeks we still couldn't manage it. It's not a click generated by a vibration motor either, it's mechanical. This means that there's no battery life drain for those of you (and believe us, there will be a few) that just love the sensation of turning the bezel. It is pretty satisfying, we can't lie.